This content was published 6 years ago. It may refer to a past edition of the Internazionali d'Italia.
Despite a poor run of form of late, Stan Wawrinka is optimistic that he can return to the level which has seen him win six clay court titles, including Roland Garros in 2015.
The 32-year-old, who lost to Pablo Cuevas in the third round at Monte Carlo and to Benoit Paire in the second round in Madrid, believes it is only a matter of time before his results start to improve.
"I didn't win a lot of matches between Monaco and Madrid, but the level is there," said the world No. 3. "I know that I'm doing the right thing now. I need to get into some matches, to win matches to get the confidence back, and I'm sure I can find a way to get to my top level.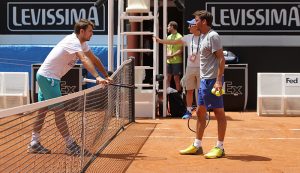 "For sure I'm disappointed to lose first round in Madrid, but it's not the first time. So I just need to stay focused on what I'm doing, keep working out, keep doing the right thing, and the result will come sooner or later."
The Internazionali BNL d'Italia is likely to be Wawrinka's last tournament before Roland Garros but the Swiss No. 1 denies that he feels under any extra pressure to perform well in Rome.
"The pressure is always there, always the pressure you put on yourself. The way you want to play, you want to play well every week, but it's not as simple as that. I need to focus on what I'm doing, keep working out and see what's gonna happen in the next few days."
Wawrinka will play either Nicolas Mahut or Paire, who beat him in Madrid last week, in his opening round match.