This content was published 5 years ago. It may refer to a past edition of the Internazionali d'Italia.
00.30 – We have the last Final match set! Thanks to their victory by 3-6 7-6(5) 10-5 against Cuevas/Granollers, tomorrow it will be Carreno Busta/Sousa versus Cabal/Farah for the ATP Doubles title!
22.36 – Alexander Zverev beats Marin Cilic 7-6(13) 7-5 and sets a blockbuster final match against Rafael Nadal, where he will defend his crown!
21.46 – Cilic loses 5 sets points at lost an incredible tie break 15-13.
20.52 – Zverev and Cilic are 3 all. But look what happened today during the doubles match between Cabal/Farah and Murray/Soares.
20.25 – Defending champion and world number 3 Alexander Zverev meets No. 4 seed and World No. 5 Marin Cilic in the last singles semi-final of the day. Zverev is trying to reach his fifth final in the last 10 ATP Masters 1000 events. He followed his breakthrough at Rome last year with titles at Montreal and Madrid, as well as a final at Miami. With a win over Cilic, Zverev would become the first player on the ATP World Tour to reach 30 wins this season. He has won 12 straight matches since 2 May. Cilic is battling Zverev not only for a spot in the final, but for the No. 3 ranking and the No. 2 seed at Roland Garros. If Cilic defeats Zverev and goes on to win the Rome title, he will return to No. 3 in the ATP Rankings on 21 May. Because Federer is not playing Paris, the World No. 3 will be the No. 2 seed and placed opposite of the 10-time Roland Garros champion Nadal. Cilic has reached two of the last three Grand Slam finals, falling to Federer at the Australian Open 2018 and Wimbledon 2017.
20.05 – Simona Halep reaches 2nd straight Rome final! Comes back to beat Maria Sharapova 4-6 6-1 6-4 in a blockbuster semifinal! Will play Elina Svitolina in a repeat of the 2017 final. The turning point was the coaching at the end of first set, when Cahill told her to change the tactic on service games using more straight shots instead of crossing.
19.24 – "I think I played with the right determination" Rafael Nadal is happy about today's match:" Of course, was a good match. Difference was few points. In the first set, it's true that I was in advantage. I played the game (indiscernible); and he played well, I think, honest. He played a good game, no mistakes. Then the match become very close. I played with the right determination and aggressive with my forehand the important moments in the tiebreak. In the second set, in some important moments, too, was the key. I was able to change the rhythm of the point, combining high balls with shots down the line with my forehand. The dynamic of the match was a little bit more for me. But when I stopped doing that exclusivity, then the match was a little bit more for him." If Rafa wins the final tomorrow will return number 1: "Believe me that, if I win tomorrow, for me the main thing is win Rome. Not come back to No. 1. Have the title here is, for me, in terms of personal feeling and personal satisfaction, for me is win Rome. If I tell you my real feelings before coming here, I came here to try to win a very important title, like Rome. Not to try to come back to No. 1. That's my feelings, of course. If I am back to No. 1, it's great. Better than to be No. 2, it's true."
19.12 – Double fault from Maria Sharapova to get broken a third time and hand Simona Halep this second set 6-1! The Russian will play a fourth deciding set of the tournament.
18.51 – For the women's doubles draw, team Barty/Schuurs triumphs 6-2 6-3 against Cirstea/Ostapenko and they set a Final match against Sestini Hlavackova/Strycova.
18.40 – Novak Djokovic is happy about his performance today and for the support of people:"Throughout last ten years that I've been coming to Rome, support is always incredible. I want to thank again everybody for creating an incredible atmosphere on the court for both players.
I did feel like playing at home. I can only thank them for that support and love they gave me. That's why this is definitely one of my favorite places in the world to play tennis. When it comes to the match, Rafa was just better in important moments. He just managed to play right shots. And he deserved to win. He was the better player. I don't think that there was too much of a difference, which is great for me, great news for me. Because Rafa is, of course, the best player ever to play tennis on clay courts. He's in great, great form; it's very difficult to play him on clay anywhere.
But, as I said, I thought the level of my tennis was very high. I was unfortunate, maybe, in the tiebreak. Couple of points could have gone different way. Winning tiebreak for him was a great wind to the back. He managed to break me early in the second set, and then he held his serve all the way through. Really good quality match. I enjoyed it. I hope the crowd did, too. And I can only take positives from this week."
18.33 – Alexander Zverev is practising before tonight's match against Marin Cilic.
18.30 – 9 breaks in 10 games and Maria Sharapova takes the first set, 6-4, on Simona Halep, world number 1.
17.30 – After today's victory Elina Svitolina would prefer to meet Maria Sharapova in the final:"It's going to be very interesting to play Maria tomorrow because I didn't play against her for a long time. So, it's gonna be interesting. That's the only thing." Comparing to the last year she improved her game:"I'm hitting stronger. I'm physically stronger. I'm serving better. If you just look at the stats, you can see difference. I'm playing just more complete player. For me, there is still lots of lots of things that I have to improve. But I think, with my team, we're clear what we have to do on the practice court and where we have to pay more attention. So that's why, it's very important for me to be here outside of court to see what I have to improve so then, you know, I can really manage my game better."
17.20 – Rafael Nadal takes out Novak Djokovic 7-6(4) 6-3 in a match that was fitting of a final. Rafa advances to his 10th final in Rome to face either Cilic or Zverev.
17.00 – Nadal made the break on 1-2 and now is leading 4-3 on the 2nd.
16.30 – First set conquered by Rafael Nadal, leading 7-6(4) against Novak Djokovic. The level of the serbian player is impressive. The match is far from over: anything can still happen.
16.00 – Juan Sebastian Cabal and Robert Farah reached their third tour-level final of 2018, defeating Jamie Murray and Bruno Soares 7-6(4) 3-6 10-8. Cabal and Farah will face Pablo Carreno Busta/Joao Sousa or Pablo Cuevas/Marcel Granollers in the final.
15.30 – The Centrale is full for the match of the day.
14.30 – Maria Sharapova prepared the match against Simona Halep
13.30 – Elina Svitolina makes 2nd consecutive Rome final with 6-4 6-3 win over Anett Kontaveit. She faces Halep or Sharapova tomorrow. At 3pm on Center Court the match of the day: Nadal vs Djokovic.
12.50 – Elina Svitolina is up 6-4!
12.35 – Svitolina makes the break goes 4-3.
12.05 – Anett Kontaveit is looking to score a third straight win over a top-10 player. Thus far, Elina Svitolina's approach to defending her Internazionali BNL d'Italia title has been quietly self-assured and impressive. It's the first meeting between them.
12.00 – Semi-finals day at Foro Italico. While Elina Svitolina and Anett Kontaveit are warming up on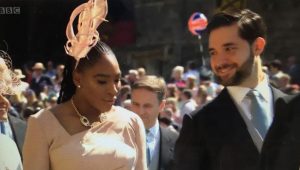 Center Court, Serena Williams is attending the Royal Wedding in London with his husband Alexis Ohanian.